David Hockney Biography. Biography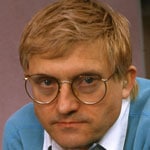 Born in Yorkshire, David Hockney became one of Britain's most celebrated artists. He became seen as a leading figure of the 'pop art' movement – though it was a title he was not keen on. Hockney's art is striking for its colourfulness and simplicity. He drew still lifes, landscapes and people. He experimented with different mediums such as photography and was a constant innovator.
Early life
David Hockney was born on 9 July in Bradford, West Yorkshire. From an early age, he had a desire to be an artist. At the age of 11, he won a scholarship to Bradford Grammar School. In the first year, he purposefully came last in the form so that he would be able to study art – ( reserved for non-academic boys)
At the age of 16, he was able to leave school and devote himself to art. He studied at the Bradford School of Art for three years. Within a short space of time, he gained a reputation as an innovative and talented artist. For two years he had to serve in two hospitals for his national service. He chose to be a conscientious objector and not serve in the army.
After serving his time in national service, he spent three years at the Royal College of Art where he became involved in the modernist movement of artistic expression. By 1960, he had his first public gallery. In 1961 he moved to New York and travelled to many of the artistic centres around the world. In 1963, he met leading pop-artist Andy Warhol and Hockney rapidly began to make a name for himself as a leading modern artist. After travelling across America, he settled down in Los Angeles in 1978. His artistic reputation and talent enabled him to make a good living from selling his works.
"What an artist is trying to do for people is bring them closer to something, because of course art is about sharing: you wouldn't be an artist if you didn't want to share an experience, a thought."
– David Hockney
Art of David Hockney
Hockney Pool Figures
Mr and Mrs Clark
Many of his works are autobiographical in nature (he never accepts commisions). His paintings are reflective and often abstract, quite different in style to the realist painters of the Old Masters. He was also intrigued with everyday objects such as playing cards, toothpaste tubes or swimming pools. A distinctive feature of his art was the effort to display the emotion of feeling between different people in the painting. For example, his painting of Mr and Mrs Clark hinted at the distant nature of their relationship. Hockney had actually been the best man at their wedding and sensed underlying difficulties between the couple. (they did later divorce) It is a good example of how Hockney's art was often based on real life experiences.
Hockney was a master in creating subtle, understated reflections of what people may be feeling.
Despite living in America, Hockney also retained a close connection to his native in Yorkshire. In 1989, he painted a large scale piece 48″ * 120″ on Salts Mill, Saltaire, Yorkshire.
Garrowby hill – the highest point on the Yorkshire Wolds
Hockney liked to innovate with new technology. He once faxed his paintings to a gallery and the gallery displayed these faxes as 'genuine art'. When asked how his work should be returned, Hockney replied they could fax it back, and they would still get to keep the original art! Hockney liked to experiment with mixing artistic mediums, for example, he experimented with composites of polaroid pictures creating a collage from several photographs of the same object. He also frequently sought to create an effect of movement or repetition. To Hockney movement was important because he wanted to create a sense of time and space through his art and many paintings captured actual movement or the possibility of a journey through the painting.
David Hockney, Pearlblossom Hwy., 11 – 18th April 1986
Religion
David Hockney was brought up a Methodist but says he himself is not particularly religious but is still interested in the subject. As a child, he spent his time in Sunday School drawing cartoons of Jesus, which was an example of his independent spirit.
Personal life
Hockney is gay and has lived his life as openly homosexual at a time when homosexual acts were still illegal in the UK. Hockney depicted homosexual themes in some paintings and sought to celebrate the uniqueness, difference and possibility of gay life. In an interview with the Telegraph, he talks about his pride in being different to the majority.
"They want to be ordinary – they want to fit in. Well I don't care about that. I don't care about fitting in. Everywhere is so conservative." (link)
From an early age, his hearing started to deteriorate and in 1979, he got a hearing aid. He has a medical exemption to use cannabis for medical purposes.
In 2018, his work "Portrait of an Artist (Pool with Two Figures): sold for $90 million (£70 million). This was a record for an artist who was still living at the time.
Quotes of David Hockney

"If we are to change our world view, images have to change. The artist now has a very important job to do. He's not a little peripheral figure entertaining rich people, he's really needed." The Telegraph (22 September 2001)

"In the end nobody knows how it's done — how art is made. It can't be explained. Optical devices are just tools. Understanding a tool doesn't explain the magic of creation. Nothing can."

"I can get excitement watching rain on a puddle. And then I paint it. Now, I admit, there are not too many people who would find that exciting. But I would. And I want life thrilling and rich. And it is. I make sure it is." (28 July 2004)

"Any artist will tell you he's really only interested in the stuff he's doing now. He will, always. It's true, and it should be like that." (26 February 2006)

"All art is contemporary, if it's alive. And if it's not alive, what's the point of it?" (26 February 2006)
Related pages
Artists – A list of the great artists, including Leonardo da Vinci, Claude Monet, Vincent Van Gogh, Pablo Picasso, Michelangelo and Rembrandt.

Great Briton list – Top 100 famous Britons as voted by a BBC poll. Including Winston Churchill, William Shakespeare, Thomas Cromwell and Queen Elizabeth I.
Books on Hockney

David Hockney at Amazon.co.uk
David Hockney at Amazon.com