John Cleese biography. Biography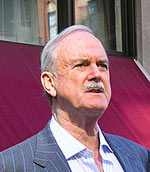 John Cleese (1939 – ) – British comedian, actor and film producer. Cleese is one of Britain's foremost comedians; he is one of the leading members of the influential series Monty Python and the Flying Circus. He also co-wrote and starred in the hit BBC sitcom 'Fawlty Towers'. He has also appeared in films, such as the Life of Brain, A Fish Called Wanda and two Harry Potter films.
Early Life John Cleese
Cleese was born in Weston-super-Mare, England on 27 October 1939. His father was an insurance salesman, who (ironically) during the First World War, had changed his surname from Cheese to Cleese because he thought Cheese sounded funny.
The family moved to Bristol where Cleese attended Clifton college; at school, he was a good sportsman (boxing and cricket) and a good scholar. After school, he spent two years teaching at prep school – before gaining a place at Cambridge University, Downing College to read Law.
At Cambridge, Cleese joined the Cambridge Footlights, where he met upcoming comedians, such as Tim Brooke-Taylor, Bill Oddie and Graham Chapman. Cleese began writing material for the Footlights Revue and appearing in performances.
Cleese was a key member of the Footlights Review (as writer and performer) who gained rave reviews at the 1963 Edinburgh Festival. The group's success led to performances on the Ed Sullivan Show and the London West End as the re-branded 'Cambridge Review'.
This led to work for the BBC; Cleese wrote sketches for the Dick Emery Show and also featured in the BBC radio programme "I'm Sorry, I'll Read That Again".
In 1965, Cleese gained another job writing scripts for the influential satirical BBC programme 'The Frost Report'. The team on the Frost Report included Goons Bill Oddie and Tim Brooke-Taylor, but also future comic stars, such as Ronnie Barker and Ronnie Corbett. He also met future Python members Eric Idle, Terry Jones and Michael Palin. Cleese also met Peter Cook, who was a big inspiration for his own comic career.
Cleese's height (6 ft, 5 inches) 1.96m made him ideal as a stiff upper lip, upper-class character. He often played slightly ridiculous upper-class figures of authority. On the Frost Report, he played the tall upper-class person who looked down on (middle class) Ronnie Barker and the (very short working class) Ronnie Corbett.
Cleese was in strong demand as a scriptwriter for the new wave of comedy programmes, which were appearing on TV. In 1966, he worked on "At Last the 1948 Show' – which performed the first edition of the Four Yorkshireman's sketch (later to made a Monty Python classic).
In 1969, Thames TV commissioned a new comedy programme, which would be called Monty Python's Flying Circus. The key members were Eric Idle, Terry Jones, Chapman and Michael Palin. Building on the new wave of absurd and satirical comedy of the 1960s, Monty Python is widely regarded to be a seminal comedy programme, introducing new concepts and approaches to sketch shows. There was often no obvious thread, with seemingly random movement from sketch to sketch. The sketches were often based on ordinary people in slightly absurd positions. Cleese frequently played upper-class characters or characters of authority, such as the Upper-Class Twit of the year, the Minister for Silly Walks and the army major teaching cadets to defend themselves against dangerous fruit. Cleese's sketches often involved working with Michael Palin, who provided a natural contrast to Cleese.
Cleese said one of his favourite sketches was the fish slapping sketch
'The silliest thing (I've done) was the fish slapping, I always say that I think some time in the future some poor student of media studies is going to have to write an essay about what that means."
Cleese explains the philosophy of the Python team.
'But it is almost meaningless, and yet it's extraordinarily funny, and I love that.'
Cleese would often write sketches with Chapman, though he claims Chapman's drink problem meant he was often incapacitated – however when he did make a contribution, Cleese said he could raise the level of the sketch to the next level.
Despite it's overwhelming critical and ratings success, Cleese wanted to leave after the third series. He felt the quality of the scripts had declined and he was running out of ideas.
However, Cleese remained a key part of the Python team who created the feature film length spin offs – such as the 'Life of Brian', and 'Monty Python and the Holy Grail'.
One of his major projects post-python was writing (with wife his wife Connie Booth) Fawlty Towers and also playing Basil Fawlty in the classic TV sit-com 'Fawlty Towers' Cleese played a neurotic hotel manager who has an air of snobbishness and ends up being infuriated by his wife, guests and life in general. Cleese said his character was based on real Torquay hotel owner he once met. Cleese later described the hotel manage (Sinclair) as "the most wonderfully rude man I have ever met," Cleese talked about playing Basil Fawlty.
"Basil Fawlty was an easy character for me. For some reason, portraying a mean, uptight, incompetent bully comes naturally to me."
On Fresh Air with Terry Gross (1997)
Fawlty Towers was first screened in September 1975 on BBC 2. The second series did not appear until 1979.
Only 12 episodes of Fawlty Towers were made (two series). But, they have become the highest-rated comedy show of all time. Some episodes, such as the Germans' entering into popular British folklore.
"Don't mention the war! – I mentioned it once, but I think I got away with it!'"
In 2000, the British Film Institute named Fawlty Towers 1st on the list of 100 Greatest TV programmes.
In 1979, the Pythons collaborated to produce the film 'The Life of Brian.' The film was a satire on religion, politics, and human nature. At the time, it was considered by many to be controversial for its implication of blasphemy. But, it received very positive critical reviews and was the 4th highest ranking film of 1979. Speaking on the controversry, Cleese wrote:
"Six hundred years ago we would have been burned for this. Now, what I'm suggesting is that we've advanced." – Cleese
Shortly after the film's release, Cleese and Palin engaged in a debate on BBC2 with Malcom Muggeridge and the Bishop of Southwark. Cleese and Palin argued the film did not set out to make fun of people's faith, but was a satire on dogma and people disagreeing with each other.
During the 1980s, Cleese appeared in a number of films, such as Clockwise, A Fish Called Wanda and Silverado. He still did some TV work, for example, with his friend Peter Cook (1980)
In 1999, he featured in the James Bond film 'The World is Not Enough.' as Q's assistant. In 2002, his role as Q's assistant was expanded in 'Die Another Day.'
In the 2000s, Cleese has often toured with his own stand-up show. In 2009 and 2010, he labelled it the "Alimony Tour" – a reference to his very expensive divorce and the need to gain money. In July 2014, he also featured in a re-uniting of the remaining Pythons.
Cleese has been married four times and admitted he always had difficulties in relationships with women. Cleese stated he felt an awkwardness with women. He says he was:
'so ineffectual and ill at ease with women that it was quite extraordinary when I look back at it.' (article)
He attributed this difficult relationship with women to his mother.
In 1968, he married Connie Booth, together they had one child – Cynthia. Together they wrote the script for Fawlty Towers and although divorced in the late 1970s, have remained good friends.
His second wife was Barbara Trentham (1981) they had one daughter (Camilla); they divorced in 1990.
In 1992, he married American psychotherapist Alyce Faye Eichelberger. In 2008, they underwent a difficult divorce with a divorce court awarding £12 million to Eichelberger. Cleese thought the judgement unfair and didn't leave on good terms with his third wife. They haven't spoken since.
In 2012 he re-married Jennifer Wade, 32 years his junior
Cleese decline an OBE and also a life peerage. He has been a supporter of the Liberal Democrats and also has supported the Presidential campaign of Barack Obama. Cleese has lived in American since the early 1990s, though he retains a home in Bath.
In recent years, he has expressed support for Brexit and courted controversy when saying he thought London was no longer an English city due to multicultural immigration.
"Some years ago I opined that London was not really an English city any more."
Some criticised Cleese for sounding more like his old character Basil Fawlty.
Quotes by John Cleese

"I'm struck by how laughter connects you with people. It's almost impossible to maintain any kind of distance or any sense of social hierarchy when you're just howling with laughter. Laughter is a force for democracy."
– John Cleese
"A wonderful thing about true laughter is that it just destroys any kind of system of dividing people."
– John Cleese
Citation: Pettinger, Tejvan. "Biography of John Cleese", Oxford, UK www.biographyonline.net 18th February 2015. Last updated 1 November 2019.
John Cleese – So Anyway
John Cleese at Amazon
Fawlty Towers: The Complete Collection Remastered
Fawlty Towers: The Complete Collection Remastered at Amazon